About the Book
The Prodigal Is Coming Home
It's been a long time since Colt Stafford shrugged off his cowboy legacy for shiny Manhattan loafers and a promising career on Wall Street. But when stock market manipulations leave him financially strapped, the oldest son of legendary rancher Sam Stafford decides to return to the sprawling Double S ranch in Gray's Glen, Washington. He's broke, but not broken, and it's time to check in with his ailing father, and get his legs back under him by climbing into the saddle again.
He doesn't expect to come home to a stranger pointing a loaded gun at his chest— a tough yet beautiful woman that Sam hired as the house manager. Colt senses there's more to Angelina Morales than meets the eye and he's determined to find out what she's hiding...and why.
Colt's return brings new challenges. Younger brother Nick has been Sam's right-hand man at the ranch for years and isn't thrilled at having Colt insert himself into Double S affairs. And the ranch's contentious relationship with the citizens of Gray's Glen asks all the Stafford men to examine their hearts about what it truly means to be a neighbor. And as Wall Street recovers, will Colt succumb to the call of the financial district's wealth and power—or finally the courage to stay in the saddle for good?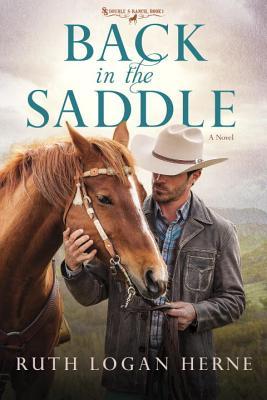 My Review
Back in the Saddle is a modern take on the biblical story of the prodigal son. It tells the story of Colt Stafford who traded in the simple and hardworking cowboy lifestyle for the bright lights, run-of-the-mill office job on Wall Street, and money that the city had to offer. But after bad investments leave him struggling financially Colt decides to head home to Gray's Glen and Double S Ranch, which is owned by Colt's father Sam Stafford. And when he returns home Colt finds himself at the end of the barrel of a rifle. At the other end is Angelina Morales, a young woman Colt's father Sam hired as his house manager. His brother Nick also isn't exactly glad to see Colt back. With rising tension between the ranch and other residents of Gray's Glen the men of Double S Ranch will learn what it is to truly be a neighbor and Colt having an unexpected ally...and maybe more in Angelina.
Back in the Saddle is a book right up my alley. Cowboys, romance, and ranches. Although I will say I am more inclined to Historical Romantic Westerns than Contemporary, but this book was just delightful. I love the modern day twist of the Prodigal Son biblical tale and the fact that there are cowboys makes it all the better. If you've known me for even a short time you know how much I adore cowboy romance stories, but there is even more than just romance between Colt and Angelina. There's also learning how to be neighbor and repairing damaged relationships. This story is perfect for those who love cowboys, romance, and retellings of biblical tales.