About the Book
Owen Christiansen has been in a downward spiral since an injury ended his NHL career. But a job on an Alaskan crabbing boat offers a fresh start . . . maybe even a shot at romance with Elise "Scotty" McFlynn, the captain's daughter.
Used to being one of the guys, to never relying on anyone, Scotty doesn't believe in happily ever after―especially with someone like Owen. Her instinct is confirmed when Casper Christiansen arrives to drag his prodigal brother home, bringing with him a truckload of family drama―and even worse, the news that Casper is wanted for questioning in connection to a crime back in Minnesota.
But Owen is more than the sum of his mistakes, a truth both he and Scotty discover when she escorts both brothers to Deep Haven as part of her new job on the Anchorage police force. Thrust into an unfamiliar world of family, faith, and fresh starts, Scotty begins to see potential for a happy ending . . . if she's brave enough to embrace it.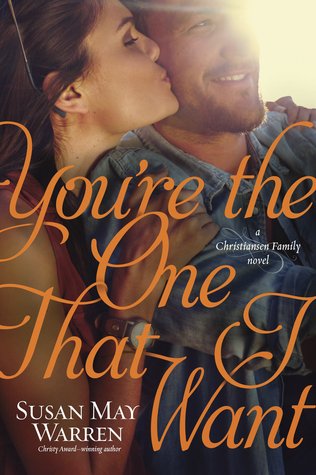 My Review
You're the One That I Want is the the sixth book in the Christensen Family series. When this series first started I never thought there would be this many books in the series and honestly counting this one I've only read three of the books. But that didn't deter me from enjoying this book. You're the One That I Want is the story of Owen Christensen who has been in a major slump since an injury ended his Professional Hockey career. And Owen has since taken a position as a crab fisherman in Alaska.
Owen soon enough takes a liking to the crab boats captain's daughter, Elise "Scotty" McFlynn who is a member of the Anchorage Police Force. Owen's brother Casper shows up to try to pull Owen back home especially since Casper is wanted for questioning in a crime. Scotty, as per her job, is sent to escort Casper and Owen back home to Deep Haven where drama ensues...and maybe even a little romance.
Out of the ree books I've read so far in this series I like this one the most. I was more invested into the story, and the characters.