Hit by Lorie Ann Grover
October 07, 2014
After receiving a full-ride scholarship to Mills College for Girls, it appears Sarah's future is all laid out before her ... that is until she walks into a poetry class led by Mr. Haddings, a student teacher from the nearby University of Washington. Suddenly, life on the UW campus seems very appealing, and Sarah finds herself using her poetry journal to subtly declare her feelings for Haddings. Convinced Mr. Haddings is flirting back, she sets off for school in the rain with a poem in her back pocket---one that will declare her feelings once and for all. Mr. Haddings has noticed Sarah's attention; the fallout from any perceived relationship with a student is too great a risk, and he has decided to end all speculation that morning. But everything changes when Mr. Haddings feels a thud on his front bumper when he glances away from the road, and finds Sarah in the street with blood pooling beneath her. -Goodreads
I'm starting with the book I'm most excited for. I just discovered this book a few days ago thanks to Rissi from Dreaming Under the Same Moon. The blurb just completely sucked me in and I NEED to know what happens....like NOW!!! I can't believe I have to wait until October!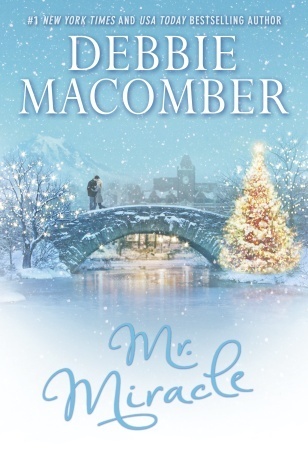 Mr. Miracle by Debbie Macomber
October 07, 2014
Beloved #1 New York Times bestselling author Debbie Macomber celebrates the most wonderful time of the year in this heartwarming Christmas novel of romance, hope, and the comforts of home—coming soon as a Hallmark Channel original movie!
Harry Mills is a guardian angel on a mission: help twenty-four-year-old Addie Folsom get her life back on track—and, if the right moment strikes, help her find love. Posing as a teacher at a local college in Tacoma, Washington, Harry is up to the task, but not even he can predict the surprises that lay in store.
After trying to make it on her own, Addie has returned home to Tacoma for the holidays, but this time she plans to stay for good, enrolling in the local community college to earn her degree. What she doesn't plan to do is run into Erich Simmons.
Addie and her next-door neighbor, Erich, are like night and day. Growing up, he was popular and outgoing while she was rebellious and headstrong, and he never missed an opportunity to tease her. Now she intends to avoid him entirely, yet when they're suddenly forced to spend Christmas together, Addie braces for trouble.
Perhaps it's the spirit of the season or the magic of mistletoe, but Addie and Erich soon find they have more in common than they thought—and that two people who seem so wrong for each other may actually be just right. With a little prompting from a certain angelic teacher, the two are in for a holiday miracle they'll never forget.-Barnes and Noble
Who doesn't love a Debbie Macomber novel!!!
Truth, Lies, and the Single Woman by Allison Flexer
October 01, 2014
Single women are neither unloved nor forgotten. Truth, Lies, and the Single Woman: Dispelling 10 Common Myths combats the lies that destroy the joy and confidence of unmarried women.
In her groundbreaking book, Allison Flexer dispels the following myths surrounding single women:
1. Because no one has chosen me, I'm not valuable.
2. God has forgotten about me .
3. Sex outside of marriage is okay.
4. My past can't be forgiven.
5. I'm not beautiful.
6. Getting married will solve all my problems.
7. There is something wrong with me.
8. The church values married people more than me.
9. It's too late for God's plan to work so I should settle for less.
10. My life is on hold until I find a spouse.
Single women will gain practical steps to accept and believe God's truth and why Flexer says the question, Who am I? is best answered by asking, Who is God? -Goodreads
I love when Christian Non-Fiction delves into this subject!
A Lady of Willowgrove Hall by Sarah E. Ladd
October 2014
Willowgrove Hall is full of secrets, but soon everything hidden is brought to light.
Cecily Faire has a secret—and she intends to keep it. But when she arrives at Willowgrove Hall to serve as a lady's companion, she comes face-to-face with the only person who knows the truth about her past.
As the steward of Willowgrove Hall, Nathaniel Stanton is dedicated to serving those around him. Nothing escapes his notice—including the beautiful new lady's companion. He is certain the lovely Miss Faire is hiding something, and he determines to uncover it. But Nathaniel has a secret of his own: he is the illegitimate son of Willowgrove's former master. Falling in love was not part of his plans . . . until he meets Cecily Faire.
When Willowgrove's mistress dies, everything changes. Fear of exposure forces Cecily to leave under the cover of darkness, embarking on a journey to finally find her long-lost sister. When the will is read, Nathaniel's inheritance makes him question his future plans. Cecily and Nathaniel are forced to make decisions that will change the course of their lives. Is their love strong enough to survive?-Goodreads
I've read both of the previous books and loved them! I can not wait for the final installment of this series!
Morning Glory by Amber Stokes
August 2014
Sequel to Bleeding Heart
|
Coming Summer 2014
The depths of fear. The dawning of hope.
Summer 1887
Felicity Lute's family is on the run from scandal and sorrow, but their "vacation" isn't bringing Felicity and her sister, Helen, together the way it should. Hope - or at least distraction - comes in the form of Myghal Tamblyn, a Cornish man wandering the West. When he joins them on their journey to Crater Lake, Felicity begins to believe her heart and her dreams will heal. Just as long as she and her two sisters can keep their secrets hidden.
Myghal has fallen in love - and been forced to let go of love - twice. He's intrigued by the flirtatious and flamboyant Felicity, but he's also wary of the obvious tension in her family, despite their welcome. An adventure with new friends might be just what his lonely heart needs, or it could be the path to a third and final heartbreak.
When tragedy plunges Felicity and Myghal into the very depths of their fears, will they find anything strong enough to help them rise again?-Goodreads
I am sooooo ready for this book!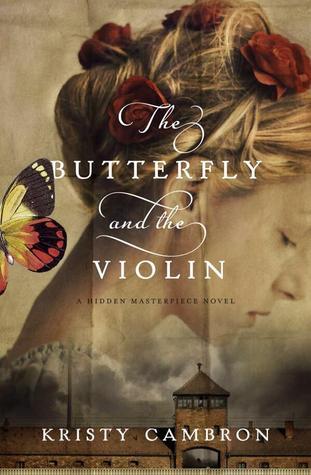 The Butterfly and the Violin by Kristy Cambron
July 15, 2014
And then came war . . .
"Today." Sera James spends most of her time arranging auctions for the art world's elite clientele. When her search to uncover an original portrait of an unknown Holocaust victim leads her to William Hanover III, they learn that this painting is much more than it seems.
"Vienna, 1942." Adele Von Bron has always known what was expected of her. As a prodigy of Vienna's vast musical heritage, this concert violinist intends to carry on her family's tradition and play with the Vienna Philharmonic. But when the Nazis learn that she helped smuggle Jews out of the city, Adele is taken from her promising future and thrust into the horrifying world of Auschwitz.
The veil of innocence is lifted to expose a shuddering presence of evil, and Adele realizes that her God-given gift is her only advantage; she must play. Becoming a member of the Women's Orchestra of Auschwitz, she fights for survival. Adele's barbed-wire walls begin to kill her hope as the months drag into nearly two years in the camp. With surprising courage against the backdrop of murder and despair, Adele finally confronts a question that has been tugging at her heart: Even in the midst of evil, can she find hope in worshipping God with her gift?
As Sera and William learn more about the subject of the mysterious portrait--Adele--they are reminded that whatever horrors one might face, God's faithfulness never falters. -Goodreads
I am so happy I got on the Launch Team for this novel!! Can not wait to read it!!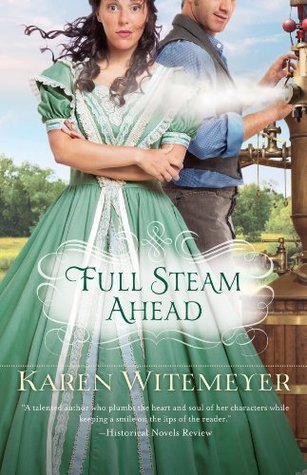 Full Steam Ahead by Karen Witemeyer
June 3, 2014
When Nicole Renard returns home to Galveston from an eastern finishing school, she's stunned to find her father in ill health. Though she loves him, he's only ever focused on what she's "not." Not male. Not married. Not able to run their family business, Renard Shipping.
Vowing to secure a suitable marriage partner, Nicole sets out with the Renard family's greatest treasure: a dagger personally gifted to Nicole's father by the pirate Jean Lafitte. Many believe the legend that the dagger is the source of all Renard Shipping's good fortune, though Nicole is sure her father's work ethic and honorable business practices are the keys to their success. Before she can board the steamer to New Orleans, Nicole finds her father's rivals—the Jenkins brothers—on either side of the gangplank, ready to grab her and steal the dagger. Quickly, she decides to instead travel north, to Liberty, Texas, where she can decide what to do next.
Darius Thornton needs a secretary—someone to help him get his notes in order. Ever since the boiler explosion aboard the "Louisiana," Darius has been a man obsessed. He will do anything to stop even one more steamship disaster. The pretty young socialite who applies for the job baffles him with her knowledge of mathematics and steamships. He decides to take a risk and hire her, but he's determined her attractive face and fancy clothes won't distract him from his important research.
The job offer comes at exactly the right time for Nicole. With what Darius is paying her, she'll be able to afford passage to New Orleans in mere weeks. But Mr. Thornton is so reclusive, so distant, so unusual. He can create complex scientific equations but can't remember to comb his hair. And his experiments are growing more and more dangerous. Still, there are undeniable sparks of attraction between them. But Nicole is leaving soon, and if she marries, it must be to a man who can manage a shipping empire. Darius certainly doesn't fit that description. And the Jenkins brothers have not given up on kidnapping Nicole and seizing the Lafitte dagger for themselves. -Goodreads
Karen Witemeyer's books are phenomenal!!! So you better believe that I jumped at the chance to get on the Launch Team for this one!!
Hope Rising by Stacy Henrie
December 16, 2014
The second book in Stacy Henrie's sweeping Of Love and War trilogy brings to life the drama of battle torn Europe with emotion, faith, and of course, romance.
Pregnant but not married, WWI nurse Evelyn Gray plans to marry the father of her baby to keep from disrupting the failing health of her grandparents at home and fulfill her dream of a family, even if it means she can't work at the hospital in France anymore. But when she learns her soldier's been killed, she decides she must convince his best friend, Corporal Joel Campbell, to marry her instead.
Joel Campbell only wants to survive the Great War so he can return to Iowa, find a girl to marry, have a family and hopefully escape the guilt he harbors over his best friend's death. A battle injury that prevents him from ever being a father and a marriage proposal from a practical stranger are not part of his plans. But are they God's?
Risking their lives in war-torn France, Evelyn and Joel will need to rely on God and each other if they ever hope to find what they want most—love and family. -Goodreads
I finished Book #1 in this series a few days ago....and WOW it was incredible!! Can not wait to get my hands on Book #2!!
Driftwood Tides by Gina Holmes
September 1, 2014
He made himself an island until something unexpected washed ashore.When Holton lost his wife, Adele, in a freak accident, he shut himself off from the world, living a life of seclusion, making drifwood sculptures and drowning his pain in gin. Until twenty-three-year-old Libby knocks on his door, asking for a job and claiming to be a friend of his late wife. When he discovers Libby is actually his late wife's illegitimate daughter, given up for adoption without his knowledge, his life is turned upside down as he struggles to accept that the wife he'd given saint status to was not the woman he thought he knew.Together Holton and Libby form an unlikely bond as the two struggle to learn the identity of Libby's father and the truth about Adele, themselves, and each other. -Goodreads
I haven't read any of Gina's novels, though I really need to. This sounds like an amazing novel.
The Story Keeper by Lisa Wingate
September 1, 2014
When successful New York editor Jen Gibbs discovers a decaying slush-pile manuscript on her desk, she has no idea that the story of Sarra, a young mixed-race woman trapped in Appalachia at the turn of the twentieth century, will both take her on a journey and change her forever. Happy with her life in the city, and at the top of her career with a new job at Vida House Publishing, Jen has left her Appalachian past and twisted family ties far behind. But the search for the rest of the manuscript, and Jen's suspicions about the identity of its unnamed author, will draw her into a mystery that leads back to the heart of the Blue Ridge Mountains . . . and quite possibly through the doors she thought she had closed forever. -Goodreads
This sounds like something I would not normally pick up and read, but the blurb intrigues me.
Still Life by Christa Parrish
January 27, 2015
A tragic plane crash. One woman who lost her husband. Another who gave up her seat for him.
Adah spent her first twenty-five years with her family as part of a fringe religious sect. Her only contact with the outside world was through customers at their farm store. Then she met Julian, a photojournalist who'd come to document their lifestyle. They eloped mere days later and Adah was thrust into a completely new life as a wife, city-dweller, and an individual allowed to make her own decisions. But she has no idea who she is.
On her twenty-sixth birthday, Julian plans to fly home from an assignment to give her her first-ever birthday present. He's thrilled when Katherine Cramer gives up her seat so he can make the flight. But the plane crashes and everyone on board is killed, including Julian.
Adah is completely at a loss, with no friends and no marketable skills. When Julian's last photographs are published, her life errupts into chaos. She begins travelling--with Julian's camera for a companion--searching for answers to who she is and what she really wants.
Meanwhile, Katherine must live with the knowledge of "why "she gave up her seat--to extend her affair one more night. She recognizes her survival as a second chance to save her marriage. But is it too late?
When Adah's and Katherine's paths cross, they discover that there's still life ahead for both of them. -Goodreads
This one just sounds magical!
UPDATE:
The Promise by Beth Wiseman
September 30, 2014
Mallory's search for happiness leads her to a faraway place. There she finds heartache, betrayal--and danger. Can the only man she's ever loved rescue her before it's too late?
Mallory Hammond is determined not to let her boyfriend, parents, or anyone else get in the way of her #1 goal--to save a life. She had that chance when she was a teenager, and the opportunity slipped away, leaving a void she's desperate to fill. Then a new friend she met online offers her the chance she's dreamed of. But she'll have to leave behind everyone she loves to take it.
Tate Webber has loved Mallory for years. He understands that Mallory's free spirit has to fly, and when he gives her the space she needs, he hopes that when she lands, the two of them will be in the same place and can marry at last.
In a bold move--and with lots of resistance from Tate and those closest to her--Mallory decides to travel across the world to fulfill her dream. Tate begs her not to go, but Mallory embarks on the dangerous journey to Pakistan anyway, only to discover how swiftly and easily promises can be broken. Her new friend isn't who he says he is. And Mallory can only pray she'll make it out alive. Inspired by actual events, this riveting story will take you on a wild journey and have you asking yourself: How far would I go for love?
I don't know how I forgot about this title!! Once again another blurb that sucks me in! Can not wait for September!!
What books are you most excited for?